Oil mist separator
Best possible protection against oil and spray mist
Clean air – always
With our special filter system EONA 3000 you efficiently remove oil mist and oil vapour emitted during lubrication procedures to maintain high air quality at the machine and place of work.
Features & benefits
•
High separation efficiency thanks to the integrated F9 class filter
•
Several filter stages, which ensures the last filter stage enjoys a particularly long service life
•
Installed in a sturdy sheet-steel housing
•
Various "docking sizes" for suction hoses
•
Controllable ventilator (including remote control)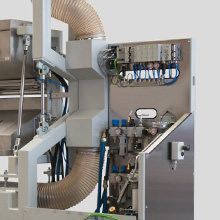 Design versions and details
The extremely sturdy filter system EONA 3000 is designed for horizontal extraction. We offer this product suitably sized for all working environments.
The extraction capacity of the EONA 3000 is 3000 m3/h.
The separated oil is collected or is allowed to drain. An electrostatic extraction filter is available as an optional extra.
Moreover, the system is also capable of recirculating the extracted air so the air can remain in the room – that is also an important quality feature of our oil filter system.
You wish to learn more about the technical characteristics and fields of applications of our oil filter system?
Contact us – we would be pleased to give you the opportunity to get to know
the system at first hand!