Spray systems
Contact-free lubrication

EQS - Eckardt Quality Spraying: The next generation
Based on a new modular construction concept for basic frame, spray chamber, oil supply an other key components, our EQS spray lubricators require shorter production and delivery times and offer maximum flexibility for the realization of individual customer requirements in the forming process.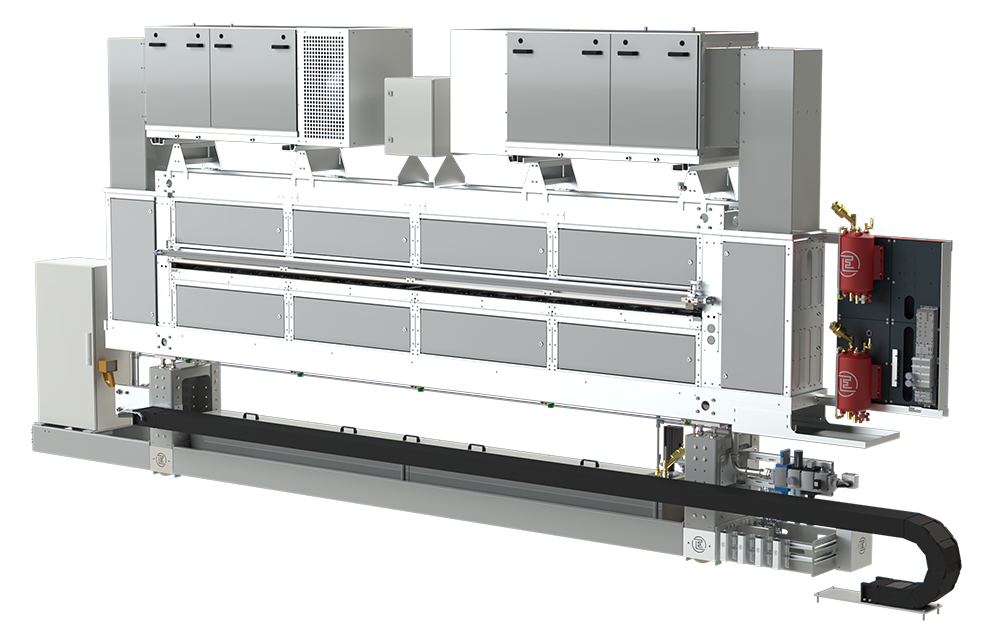 EQS: Features & benefits
•
Compact, slim construction, adjusted to the actual space conditions in the press shop
•
All-round closed cabinet made of zinc-coated sheet steel
•
Swing-metal doors for easy maintenance access
•
Powerful oil mist separation system EONA 3000 with F9 final filter stage
•
Efficient recirculation of surplus oil within a closed circuit
•
Flexible assignment of lubricant quantities to individual blank surface areas
•
Perfectly suited for joint operation with the LBE brush cleaner, using a single control unit
EOS spray systems: Flexible & clean application
Our EOS spray systems apply oils and release agents fully contact-free. Making use of this method you guarantee the medium is applied cleanly and evenly, which allows you to act flexibly if not all areas of a material are to be lubricated uniformly.
One huge advantage of our spray systems is their extremely fast changeover times to use different grades of oils.
Oil/release agent storage; manual and fully automatic control and monitoring of the spray process. We offer our customers a wide range of options.
EOS: Features & benefits
•
Contact-free, low-wear lubrication
•
Flexible, partial application possible
•
Simple application rate control
•
Minimum setup times when changing spray medium
•
Different spray nozzles available
•
Suitable for all fluid media and numerous oil grades
Individual solutions for all application purposes
EOS systems are perfectly designed to meet the needs of industry to apply oils and release agents. They are solidly built and exceptionally easy to maintain; they reliably and precisely control the distribution of lubricants and release agents. The flow conditions in the inner chamber are optimized by design to ensure that emitted oil mist can be extracted particularly efficiently.
Our spray systems for the application of oils and release agents are designed to provide different spray widths.
There are different versions available of our spray lubricators: EOS I, EOS II and EOS III. It is possible to run roller/coil lubricators with or without their own drive. In addition, we offer customized machines - for instance for hydroforming (IHU).
EOS Move is a compact spray nozzle system for manual lubrication which requires only little space and ergonomically optimizes the workplace.
Design versions and details
EOS I series
EOS I series spray lubricators are suitable for spraying widths up to 800 mm; thanks to their rugged steel construction suitable for press shops they are distinguished by their outstanding reliability and long service life.
Fields of application
Automotive: metal brake lines, oil lines
Sections for sanitation, construction and furniture industry etc.
Components for heating systems
Saw blades
EOS II series
EOS II range of models has proven their worth in applications with spray widths from 500-2000 mm. An automatic scraper attached to the housing edge ensures that not a single drop of oil reaches the outer shell. The supply lines can be heated to ensure it is also possible to spray media with a higher viscosity.
Fields of application
Automotive: seat rails, car body components, roof/ window frames
Kitchen fittings
Sinks
Radio housings
EOS III series
Our largest spray lubricators are designed for spray widths between 2500-5000 mm. Equipment features include oil drip protection and heatable supply lines for high viscosities as well as integrated support rollers/feed units that guarantee the sheets of metal are reliably transported through the spray chamber.
Fields of application
Automotive: wings, structural components
Household appliances
EOS Move
In comparision with conventional systems EOS Move swaps roles, since it is the spray bar that moves – not the blank. This enables the entire process – blank insertion, blank lubrication and blank removal – to be conducted requiring significantly less working space, and the machine operator to work much more ergonomically.
Fields of application
For blank sizes of up to 600 x 600 mm
Ideal for use in spatially limited areas
You wish to learn more about the technical characteristics and fields of applications of our spray systems?
Contact us – we would be pleased to give you the opportunity to get to know
the systems at first hand!