Corrosion protection systems
No space for rust & co.
Protected during transport and storage
The risk of corrosion is omnipresent during production, transport and storage as well as in many other situations. With our special systems you can now effectively protect your components. We develop different varieties of corrosion protection systems – we always have a solution that satisfies your individual requirements perfectly in this sensitive area.
Features & benefits
•
Transport system (endless conveyor or material carriers) integrated in all systems
•
All systems equipped with dedicated oil supply
•
Precision heated oils for particularly smooth application
•
High-performance spray nozzle technology achieves a lasting, full surface application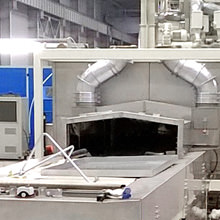 Design versions and details
Our systems are designed to meet widely differing requirements as they arise during different phases of the production process as well as during subsequent material handling processes. Our offer includes the following types of systems:
During production
We offer corrosion protection solutions for components with exposed metal parts. They are generally active immediately following hot forming processes when the parts would begin to rust as they emerge from sand blasting systems unless corrosion protection is applied immediately.
Transport
We also offer special systems to provide corrosion protection during transport of carbody parts. Component assemblies such as wings, chassis beams, pillars are reliably coated with corrosion protection, which is generally applied following welding and riveting processes. We also have appropriate systems for sections and semi-finished flat rolled steel products.
Hybrid solutions
To meet increased demands with regard to the adherence properties of the preservative oil we have included hybrid systems in our range of products that make possible electrostatic spraying. Standard atomizing nozzles are used to apply the oil. In addition, the corrosion protection oil is charged electrostatically so that it adheres particularly well to perpendicular surfaces (on cylinders, for instance). Our corrosion protection systems represent a real competitive advantage in comparison with other manufacturers!
How our corrosion protection works in practice
Schwäbisch Gmünd-based Strahlcenter Venetis Gmünd GmbH uses our corrosion protection systems e.g. for the preservation of press-hardened vehicle structural components. The company specialises in blasting, vibratory grinding and high-volume testing and processes aluminium and steel as well as cast, forged and stamped parts using state-of-the-art plant and process technology.
The Strahlcenter Venetis corporate video shows our corrosion protection systems in action.  We'd like to thank Strahlcenter for granting permission to cite this reference.
Do not accept half measures when it comes to corrosion protection – place your trust in Eckardt solutions. They offer the best-possible answer to your individual process requirements during production, transport and storage.
Contact us – we would be pleased to offer you comprehensive information about our systems as well as "live" demonstrations of their
performance capabilities.