Spray and spit nozzles
Variety, precision, flexibility: the right solution for every spray task
Uniform precision
No matter if thin films are to be applied evenly or the smallest lubrication points need to be met with precision – we have the right spray nozzle for you. We have the right solution for all of your application tasks: from a spare part through to an individual standalone configuration to meet your requirements.
Features & benefits
•
Infinitely variable, precise control (spray interval, pressure)
•
Pneumatic or electric control
•
Low mist nozzle caps for flat or round spraying
Design versions and details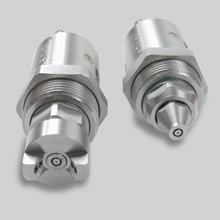 Spray nozzle SD 16: precision application of fluid media
The SD 16 ensures you are able to apply the thinnest films of media such as low-viscosity oils and release agents with precision. For example, the pneumatically controlled, compact nozzle can be integrated directly in a forming tool to facilitate targeted, practically mist-free wetting. Depending on the nozzle cap used it is possible to generate a flat or round spray.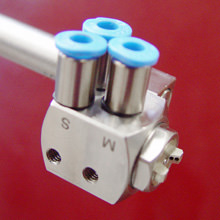 Spray nozzle SD 17: solution for the tightest of installation spaces
The SD 17 is predestined to apply low-viscous oils and release agents in confined conditions. Inserts from 0.2 to 1.5 mm can be used for flat or round spray application. It is optionally possible to place connections for three feed hoses (spray air, control air, sprayed material) on the top or the side of the nozzle.
Spray nozzle SD 20: numerous application and setting options
The SD 20 includes an integrated control valve with which it is possible to quickly and simply control the spray and control air. It is possible to adjust the spray width manually. This model is primarily envisaged for flat spraying tasks; however, round spray application is also an option. It is possible to control the SD 20 pneumatically or electrically.
Spray nozzle SD 25: compact dimensions for universal deployment
The pneumatically control SD 25 is a medium-size nozzle made entirely from stainless steel. Distinguished by an extremely attractive price-performance ratio it is particularly suitable for a wide range of tasks. It is possible to apply the media with a flat or round spray. The nozzle is available as a flange version with switching valve.
Spray nozzle SD 30: flexibly controlled spray width
The SD 30 is also made of high-quality stainless steel. Thanks to its rugged design it is particularly suitable for spray tasks that demand high performance in continuous operations. As a special characteristic it is possible to adjust the width of the spray jet - either manually or via remote control.
Automatic nozzle SDA 30: high-tech system for maximum process reliability
The SDA 30 is an integrated system consisting of a nozzle and a control module. The nozzle is equipped with a Hall sensor that monitors and controls the position of the nozzle needle. All operational settings/adjustments (oil rate and so forth) are automated via the controller of the proprietary Eckardt control unit. This makes it possible to control up to four nozzles at the same time.
Spit nozzle SD 17: version for pin-point and linear application
The pneumatically operated SD 17 is also available as a spit nozzle version. The fully spray valve has been specifically developed for pin point and linear application of oils, release agents and other low-viscosity media; it maintains its precision at certain distances between the nozzle and the application object. The spit nozzle SD 17 is particularly suitable for precision lubrication tasks of components and tools; it can also be setup for higher viscosities via an optionally selectable heating unit.
You wish to learn more about the technical characteristics and fields of applications of our spray and spit nozzles?
Contact us – we would be pleased to give you the opportunity to get to know
the systems at first hand!